Written by Anthony Barich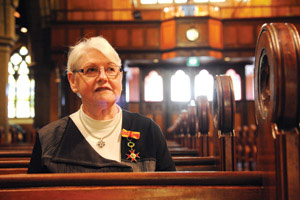 AN Australian woman who has described United Nations' policy as being subject to "anti-Christian" influence from "atheistic humanists" has received a Papal award.
Brenda Finlayson, vice president and Australian board member of the World Union of Catholic Women's Organisation (WUCWO) was invested in the Order of St Gregory the Great on 7 November at St Patrick's Cathedral in Ballarat.
Mrs Finlayson is being honoured for her service to the Church, WUCWO and the Catholic Women's League.
By enunciating the Catholic Church's tenets on all matters pertaining to the common good, Mrs Finlayson said WUCWO's work is crucial.
"It is becoming increasingly more difficult to combat the anti-Christian influence exerted on UN policy by atheistic humanists embedded in the United Nations and at the Council of Europe.
"What is instigated there, slowly but surely, infiltrates into legislation of UN states, Australia included. It is imperative that WUCWO is supported to continue in this vital apostolate."
WUCWO women also undertake advocacy for those whose development is impeded by poverty, apathy, corrupt governance or unjust laws, stressing their violators' lack of appreciation for the dignity of each human person.
Mrs Finlayson – school teacher, wife, mother and grandmother – has led WUCWO's lobbyists in several key international agencies in WUCWO's consultative status with the United Nations.
Her work included WUCWO's presence at the Economic and Social Council in New York and Geneva; the Food and Agricultural Organisation in Rome; the Human Rights Council in Geneva; the International Labour Organisation in Geneva; and UNESCO in Paris. WUCWO is also present at the Council of Europe.
As the Convenor of WUCWO's Communications, Information and Publications Permanent Committee and as editor of the WUCWO official newsletter Women's Voice (published in English, French and Spanish),
Mrs Finlayson has been responsible for sharing information about the "extraordinary work" of ordinary Catholic women throughout the world.
She has also been instrumental in highlighting WUCWO's "strong commitment to and interaction with" the Holy See. In 2008, she spoke about the role and mission of women at the International Congress, Mulieris Dignitatem. Founded in 1910, WUCWO now represents 100 Catholic women's organisations worldwide with a membership of more than five million women.  
WUCWO's aim is to promote the presence, participation and co-responsibility of Catholic women in society and the Church, in order to enable them to fulfil their mission of evangelisation and to work for human development.
It was the first international Catholic organisation to receive UN recognition as a non-government organisation and was also a force in the creation and adoption of the Universal Declaration of Human Rights in 1948.  
In 2006, WUCWO was elevated to the status of a Public International Association of the Faithful by the Holy See.
This week, WUCWO is celebrating a century of service by women for the Church and society at their Centenary Assembly in Jerusalem.
The Board of WUCWO is currently made up of 27 members from the five WUCWO regions – Africa, Asia Pacific, Europe, Latin America and the Caribbean and North America – each woman representing the Catholic women's organisation(s) of her country.
Mrs Finlayson has served on WUCWO's board since 2001. Her husband, Peter, is a retired agricultural scientist who has worked in 35 countries with the UN, AusAID, the Asian Development Bank and unilateral aid agencies in those countries.  
Accompanying Peter when he travelled to developing countries as well as postings to Spain, Brazil and later Hungary after the fall of Communism, Mrs Finlayson said she was led to a deeper understanding of the importance of aid, "not just money but technical advice, education, and giving people the opportunity to better themselves".
Mrs Finlayson's investiture into the Order of St Gregory took place at St Patrick's Cathedral in Ballarat, Victoria and was presided over by Bishop Peter Connors.
The Catholic Women's League of Australia (CWLA) is an organisation dedicated to upholding the dignity of women through education and encouraging their participation in social and public life.  
The CWLA promotes the spiritual, social, cultural and intellectual formation of women. CWLA also advocates for the respect of human rights with a particular focus on women and children.
Published in The Record