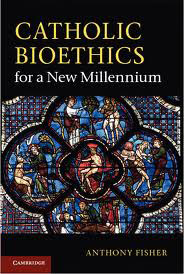 An encounter with human bioethics and 'professional' bioethicists can be fascinating, if sometimes frightening. Bioethics is the branch of applied ethics that deals with issues that are often, quite literally, a matter of life and death. These include the perennial issues of abortion and euthanasia, as well as those occasioned by developments in medicine and biotechnology: new ways of taking, making and even faking, human life.
Catholic Bioethics for a New Millennium by Bishop Anthony Fisher OP brings light to these highly controversial, complex and personally confronting issues.
Perhaps more synonymous in recent years with World Youth Day in Sydney, this contribution by the Bishop of Parramatta reminds us that he also has degrees in law and theology, as well as a Doctorate in Bioethics from the University of Oxford, all neatly tucked under his friar's belt. Fisher has published extensively in moral theology and bioethics and thankfully his respected scholarship continues through his teaching, culture of life advocacy and this most recent offering.
Catholic Bioethics guides the reader through some of the major challenges of sex and life in post-modernity, described in Fisher's characteristic rhetoric as a growing appetite for consumer bodies and recreational sex, commitment free relationships, the castration of a civilisation, as well as the culture of death before birth, and the culture of death before time. Fisher asks:
Do Christians believe and are they willing to live the creative and hopeful teachings of their tradition about life, sexuality, marriage and family – reformulated and developed appropriately with the aid of the best of contemporary moral thinking? Or do we prefer to acquiesce in the wholesale commodification and destruction of early human life, the disintegration of marriage and the marriage-based family, the consumerization of sex, the blanket sterilization of individuals and societies and the abandonment of the disabled and the elderly? How we respond to such questions will literally be a matter of life and death not just for individuals but for our civilisation. (p.37)
Many of the issues discussed within this book are as much a cause of controversy within the Church, as outside of the Church. The opening chapters therefore trace the recent history of Catholic moral theology and bioethics , from its low points of 'moral multiculturalism' and the 'new moralities', to the 'flowering of Catholic thinking on sexuality, marriage and family life, from married lay theologians as much as popes.' (p. 21) Fisher identifies four 'promising directions in Catholic moral thought' - the greater emphasis on Scripture; the renewal of natural law theory; the recovery of virtue, community, tradition and culture; and greater appreciation of the distinctly Catholic-Christian contribution – before dealing at length with the often contested topics of conscience and moral cooperation in evil.
Fisher then turns his philosophical and theological analysis to specific bioethical issues. These include research involving human embryos, abortion, prenatal testing, organ and tissue transplantation, the provision of assisted nutrition and hydration to unresponsive patients, suicide and euthanasia. The book ends with an incisive discussion of the identity and role of Catholic hospitals in contemporary society, as well as the responsibilities of the Catholic politician.
Regrettably, there is no systematic treatment of reproductive technology, which is one of the most misunderstood and pastorally challenging issues for modern Catholics. Some readers may also be disappointed that there is not a broader treatment of euthanasia and assisted suicide.
Catholic Bioethics is neither a textbook nor a manual, but a collection of essays. These often assume the reader has some background in moral theology or familiarity with medical and scientific concepts. Some people may find the chapters dealing with the question of 'when do people begin?' and bio-legislation heavy reading.
Nevertheless, Fisher's ability to contexualise issues and build conceptual frameworks ensures that there is much within the book which is accessible to the general reader. This is aided by the fact that he writes as a moral theologian, a teacher, and importantly when dealing with sensitive life issues, a pastor. Fisher writes with the reasoning and insight of a man who has listened to post abortive women, perplexed medical staff, patients desperate for a cure and dying people longing for release from this life. The text is both academically and personally honest.
On the other hand we know that even with the best of care, pain and death cannot be eliminated from this life. Some problems in this life have no solution. Then comes the really hard loving: the loving of a family surrounding their comatose child, of a husband whose wife's Alzheimer's disease means she no longer recognises him, of siblings playing patiently with their profoundly disabled brother, of a mother watching and weeping at the foot of the Cross. Sometimes the best we can do is invest ourselves – our time, companionship, prayer, hope – in the suffering, the persistently unconscious and the dying. This is a kind of respecting and loving that no one should pretend is easy. (p. 269)
As a student of Bishop Fisher (or as he was then, Father Anthony) in the earliest days of the John Paul II Institute in Melbourne, it was this rich mix of perspectives which captured my attention. I was taught bioethics in both the classroom and the chapel; presented with a method grounded in reason and faith; and constantly reminded of the responsibility to live and communicate the Gospel of Life within secular society, as well as the Church. These lessons are repeated throughout Catholic Bioethics as chapter by chapter the Christian vision of life and love is explained, defended and celebrated.
In his Introduction, Bishop Fisher describes himself as one of the 'John Paul II generation' especially graced to receive his Theology of the Body and Gospel of Life. Catholic Bioethics for a New Millennium demonstrates that he is well placed to pass this legacy on.
This article first appeared in the Catholic Weekly, 11/03/12