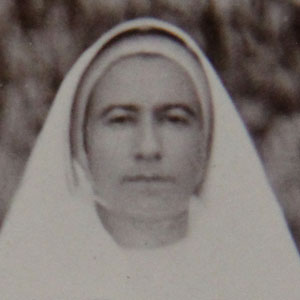 More than 4000 people are expected to attend the Chrism Mass tomorrow at the historic Infant Jesus Cathedral in Phirangipuram, India, where Dr Sr Mary Glowrey JMJ will be declared a 'Servant of God' by the Most Rev. Dr. Gali Bali, Bishop of Guntur.
Being declared a 'Servant of God' is the first of four official approvals on the path to sainthood, and signals the commencement of the Diocesan Phase of the Inquiry.
Dr Sr Mary Glowrey was the founding president of the Catholic Women's Social Guild of Victoria (now known as the Catholic Women's League of Victoria & Wagga Wagga). Jewell Start, General President of CWL Victoria and Wagga, has travelled to India to attend this momentous event. Accompanying Jewell is Fr Dan Strickland MGL, a young Australian priest who wrote the prayer for the cause for the sainthood of Dr Sr Mary Glowrey.
Some 300 sisters of the Society of Jesus Mary Joseph (JMJ) are expected to attend, as well as an estimated 700 representatives from JMJ education and medical institutions, and the JMJ lay community.  Representatives from the Catholic Health Association of India (CHAI), founded by Dr Sr Mary Glowrey in 1943, will also be in attendance.  CHAI has grown to become one of the world's largest Non-Government Organisation (NGO) in the health care sector. Dr Sr Mary Glowrey chaired CHAI's first meeting while war raged close by, and casualties streamed across the border from Burma. The principal object of the Association was to teach and safeguard Catholic principles in medical and nursing practice.
The Society of Jesus Mary Joseph was founded by the Rev. Fr. Mathias Wolff, S.J., on 29th July 1822, in Culemborg in the Netherlands.  Practice of the Catholic faith in public had been prohibited in Holland until 1814, and there was a dire need to provide a Christian education to Catholic children.  In the ensuing years, the congregation gradually opened schools across the Netherlands.  The Society of JMJ has since grown into a grand Banyan tree that has spread itself across Indonesia, India, Africa, Italy, Australia (1960 - 1982) and Afghanistan providing shelters to orphans, the disabled, the marginalized, the aged, HIV/AIDS patients; and, has an extensive network of schools, colleges, hospitals and social service centres.