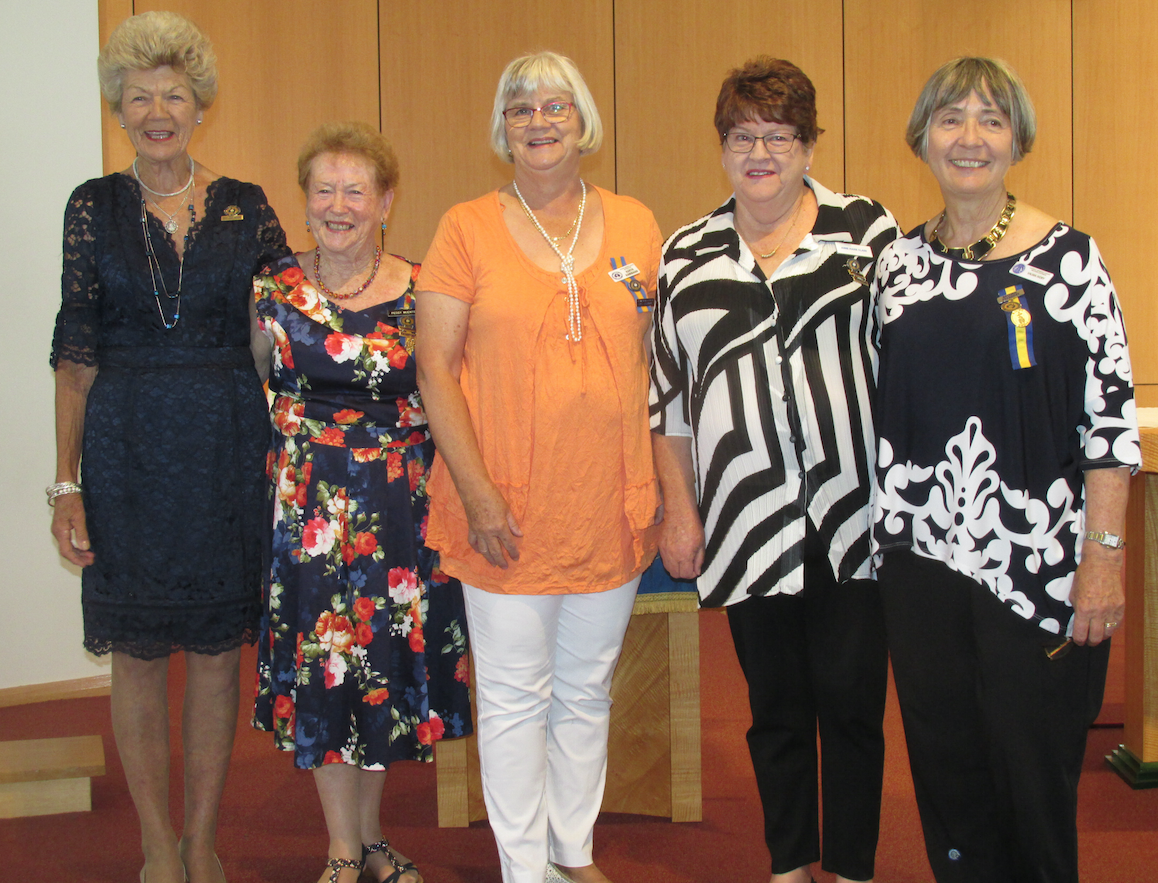 From the left; Past Presidents Georgie Bruce-Smith (WA), Margaret (Peg) Mcentee OAM (NSW), Karyn Kammann (WA), Anne-Marie Clark (SA), and National President Valma Ivory (WA).)
On Sunday 4 February, the Installation Mass for Catholic Women's League Australia was held at St Benedict's Parish Church in Applecross. WA members were officially installed to take on the role of the National Executive of Catholic Women's League Australia with Valma Ivory as National President, Maria Parkinson National Secretary, Fran Mulcahy National Treasurer, Vice Presidents Karyn Kammann and Adele Parsons and National Chaplain Father Jess Navarra.
The Mass was concelebrated by Applecross Parish Priest, Fr Nelson Po and National Chaplain Fr Jess Navarra assisted by Deacon Mark Rucci. The newly elected State President of CWLWA, Bev Macri, welcomed all present including guests from the Aboriginal Catholic Ministry, University of Notre Dame, the St Vincent de Paul Society, Australian Church Women, World Day of Prayer, members of the outgoing CWLA National executive from South Australia, visiting members from Victoria and New South Wales and around 60 members from branches throughout WA.  Following the celebration of Mass and the official Installation ceremony all present enjoyed afternoon tea which was hosted by members of St Benedict's Parish.
The Handover took place at St Catherine's House of Hospitality in Tuart Hill. It was the perfect venue for the South Australian and Western Australian team to come together under one roof to build on the friendships developed over the past two years, relax under the care of Sr Elizabeth and her volunteers who came to assist with the catering for Handover on Monday. The combined and face-to-face meetings were very helpful and finished on Monday afternoon. Anne-Marie, Joan and Geraldine were very organised and brought all relevant documents and items to finalise the handover. We are very grateful for their forethought and willingness to assist us in this transition.
Our Western Australian State Treasurer, Pauline Marlborough offered to be tour guide to Anne-Marie, Joan and Geraldine for Tuesday while the 2018 executive met to plan the year ahead, especially the National AGM Teleconference in May and Mid-Term National Council Meeting on August 11th – 12th.
We are grateful for who sent messages of best wishes and prayers for our two-year term. We are grateful for all those who assisted with the preparation and all who participated in the installation and hanover.
We ask for your prayers throughout the coming two years.
"Never get tired of praying, and never  miss a chance to give to the poor!" Sirach 7:10
Valma Ivory
President