Written by Anna Krohn, National Bioethics Convenor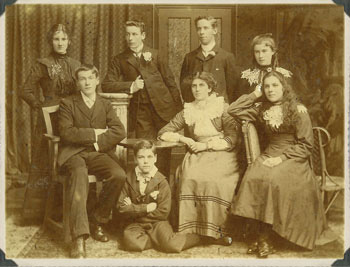 For several decades, sociologists and psychologists have identified the key contribution made by engaged, tender and stable fathers (and father figures) to the academic, sexual and character development of girls. The importance of fathers in the maturation and sociological integration of children has also been a lively question in the wake of the recent London riots.
More than 90 years before these studies about fatherhood, a young Mary Glowrey was discerning her life with the whole-hearted support of her father Edward. Some of her later personal and spiritual reflections about 'positive fathering' (although she did not use this term) are reminiscent of St Therese of Lisieux and her theology of the loving Father.
Like Therese, Australia's great medical missionary, Dr Sr Mary Glowrey JMJ – at times against all odds – assumed the infinite and intimate reliability of her heavenly Father and, like Therese, Mary forged her profound spiritual identity within the affirmation of her earthly father.
It was Edward Glowrey who gently prompted Mary to consider devoting her extraordinary intellectual abilities to medicine. He challenged her to overcome with the faith both her natural reticence and the great cultural and practical limitations of her era. He helped her see past the prevailing prejudice that medicine was an 'improper' profession for a young Christian woman. He also gave her confidence in her own womanhood. Mary later wrote about that important 'personalising' perspective women can bring to transform medicine, a quality which later St Edith Stein would call the 'feminine genius'.
Edward Glowrey was not an academic. He was, however, a fine example of the refined, faith-filled, capable and well-read Catholic Irish-Australian who shaped Victoria before the Great War. Edward lived in a concrete way, and without pretension, his advanced cultural, religious and social engagement. Mary pens many descriptions of his 'boundless' self-giving hospitality and care of others.
It was Edward and her country schoolmaster, Harry Gill, who encouraged Mary to take the daring step of leaving home at the age of 13 to pursue a scholarship at the South Melbourne College. A letter from Mary's older sister Lucy reveals that Edward's visits to Melbourne were regular "outstanding events" in Mary's life as the only schoolgirl boarding at the Good Shepherd Convent. When in Melbourne, Edward would take her along to his business meetings and he also took Mary to the opera, to Shakespearean plays and to theatrical comedies. During the excitement of Federation in Melbourne, he accompanied her to royal processions, parades and all the events that made Melbourne so 'marvelous' at that time. He confided in her and respected her opinions.
Edward fostered Mary's lifelong and masterly ability and love for the humanities (she wrote poetry, was multilingual and loved literature), her heroic dedication to social concerns and at the same time, her humane empirical alertness – all of which contributed to her 'trail-blazing' vision of women in society.
Writing in December 1917 (in an edition of Women's Social Work), Mary urged Catholic women to organise a network (the Catholic Women's Social Guild) in order to educate themselves in Christian social teaching and tackle areas of social distress and even to prevent them. She wrote: "We owe a duty to our fellow-women and should help to ensure good conditions for them", both within their families and in their employment.
Edward's courage, outstanding virtue and faith in the face of adversity were a beacon and inspiration for Dr Sr Mary Glowrey throughout her medical mission years. Her nearly impossible medical and organisational feats in India surely drew on some of her childhood memories. Edward steered and relocated his growing family of nine several times (from Birregurra, to Garvoc, to Watchem and later to Swan Hill) through the threats caused by the extortion of family funds by a dishonest property manager, the ill health and death of infants due to diphtheria and other epidemics, and the economic fluctuations of post-gold rush Victoria.
In 1957, a classmate and friend of Mary's from the South Melbourne College days, Rev. William Collins (the first priest editor of The Advocate, the Melbourne Archdiocesan newspaper) remarked upon the courageous resourcefulness Mary clearly inherited from her father. He wrote with insight and appreciation of Mary's sacrifice in leaving a "home which was the centre of the warmest love and affection; … under the calm and placid front seen by outsiders, was a heart full of anguish at the prospect of leaving home forever! Her constant and successful improvisations (in India) and her invincible courage in the face of seeming insuperable difficulties will be told when the full story of her is written."
In the seventh year of its operation, Mary's tiny, under-equipped dispensary at Guntur, staffed only by herself as doctor and a few sister nurses, with only charitable gifts from afar and no public funds, treated 44,000 outpatients as well as more than 90 inpatients in one year.
Dr Collins's comments also reflect Mary's great sense of what Blessed Pope John Paul II would later describe as the indispensable and 'complementary' roles of men and women in the mission of the Church. Her affectionate, mature and visionary friendships with men, especially with priests, are evident everywhere in her correspondence. Letters to her priest brother Eddie (later the Dean of Ballarat Cathedral) and mentor Fr Lockington, and from admirers such as Dom Anscar McPhee, from the Benedictine Monastery in New Norcia, give rich testimony to this.
In 1939, Mary wrote from India to her father after learning that he was gravely ill: "Daddy … God's call (to heaven) will sound sweet in your ears, for it will be a call to the Eternal Father's House, and you who have served him so long and so faithfully, and have gladly given your children entirely to his service, will receive a Royal welcome."
Anna Krohn is a sessional tutor in the Nursing Department at Australian Catholic University, the National Bioethics Convenor for Catholic Women's League Australia and an academic skills adviser at the John Paul II Institute for Marriage and Family.  Photos used with kind permission of the Catholic Women's League of Victoria and Wagga Wagga.