Written by Anna Krohn, National Bioethics Convenor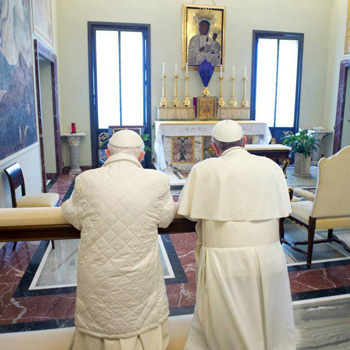 Pope Francis' recent interviews in America magazine, and with atheist Italian journalist Eugenio Scalfari in La Repubblica, have "gone viral" since their publication. Unfortunately, the level of selective reporting and of skewed reading is also off the scale!
There are the jubilant headlines announcing that the Pope is telling pro-lifers to stop 'obsessing' about abortion, and that he is shifting moral teachings relating sexuality and marriage. Then there are angry remarks from bloggers inside the Church who have micro-analysed Francis' remarks and see "behind them a slap in the face for all those who have fought the culture wars in defence of traditional Catholic teachings."
Each approach makes too much or too little of the Pope's interviews, and each attempts to define him as either an 'heroic liberal' or a 'reckless modern' in discontinuity with his papal predecessors.
There is one particular comment to make about this, and two general observations!
Pope Francis is his own man—his personality, his manner and his language are different from that of Pope Emeritus Benedict XVI or Blessed John Paul II.
In addition, the Pope's interviews were not delivered as crisp 'sound-bytes'; his ideas were expressed in a conversational and free-form fashion ranging over a wide range of likes, opinions and pastoral asides. The Scalfari interview was based on the interviewer's recollection of a conversation that was not recorded and at which notes were not taken.
This Pope is clearly wary of answering in platitudes, yet he also gives honest and thought-provoking comments about discovering more effective ways to witness to Christ's mercy and love. In particular, his thoughts were very personal—even identifying, in the America interview, his own earlier administrative "failings" as a Jesuit superior. These reflections need to be read in context and logical order.
Secondly, it is worth remembering, that not all papal utterances are equal. The interviews are not teaching documents or proclamations. If anything, the comments prompt an examination of conscience and attitude among Catholics rather than the secular world. They are timely remarks about our own need for daily conversion to the reality of Christ. Only then can we be a witness to Him in a way that is authentic, loving, fruitful and "fragrant" (this Pope likes to use the image of smell a great deal—he advised bishops to get a whiff of their flock!).
If there is a central message from Pope Francis, it is this: that we Christians are the medium of the message. That message is nothing other than the saving, loving, healing person of Jesus Christ: "The thing that the Church needs most is the ability to heal wounds and to warm the hearts of the faithful. It needs nearness and proximity."
In the America interview, the topics of abortion, contraception, homosexuality and euthanasia were only briefly mentioned. Francis says about these vexed issues: "I am saying what the catechism says" …"I am a faithful son of the Church." He asks that moral teachings be understood in the perspective of the entire mission of the Church, and that they are understood in the light of Christ's boundless mercy. The day after the interview's release, Pope Francis spoke to Catholic gynaecologists about the sanctity of the unborn and the lethal consequences of a "throwaway" society.
In prodding the faithful to apply concrete charity, and imagination to the life and marriage issues—and to travel out to those "wounded" by a culture enamoured by a disposable notion of human life, love and sexuality by our world—Francis is not refuting the mission of the previous "culture of life" Popes. He is building upon it.
The Catholic tradition is expansive, multi-faceted and developed. It embraces not only the proclamation of the truth (which is of course vitally important) but also the promotion of justice so that people can be encouraged to choose well and wisely. The best of this tradition delivers the truth with the touch of love, so that people want and delight to respond in kind.
The outstanding witnesses to this tradition—we call them saints—found the truth, the goodness and beauty of this love in their own immediate encounter and radical transformation by the person of Jesus Christ. This is precisely what Pope Emeritus Benedict XVI pinpoints in his encyclical Deus Caritas Est.
Benedict XVI elsewhere argues that Christians need to promote a fully 'Human Ecology' and to do this by becoming like the Good Samaritan. Only by assuming an attitude of merciful love is it possible to approach others in order to bring help and healing.
Christ, Benedict XVI says (in words echoed by Pope Francis' allusion to the "field hospital"): "…comes close to us, pours oil and wine on our wounds and takes us into the inn, the Church, where he has us treated, entrusting us to her ministers and personally paying in advance for our recovery. Yes, the Gospel of love and life is also always the Gospel of mercy."
Blessed John Paul II was also clear that while we must speak out for the dignity and preciousness of unborn, the enslaved, the trafficked and disabled people, we must at the same time reach out in genuinely sound and practical ways to support their mothers, employers and families.
In his seminal Evangelium Vitae, John Paul II recognises that many people are submerged in a culture which treats people as "things" and values as mere "products" of choice. He calls this a "Culture of Death"—a problematic mixture of individualism, hedonism and utilitarianism. He also systematically calls on each member of the Church to oppose the "Culture of Death" not merely using words but by living a person-affirming, holistic, God-inspired response: "The Culture of Life".
John Paul II also urged renewal of the Church members themselves: "Too often it happens that believers, even those who take an active part in the life of the Church, end up by separating their Christian faith from its ethical requirements concerning life, and thus fall into moral subjectivism and certain objectionable ways of acting. (EV #95)"
Like his two predecessors, Pope Francis provocatively calls for the Church to be reformed of false optimism, mediocrity and sterile bureaucracy. His sentiments are not those of political correctness but of his namesake, St Francis of Assisi: "We have been called to heal wounds, to unite what has fallen apart, and to bring home those who have lost their way."