Written by Glynnis Grainger
Women's gifts highlighted at national conference.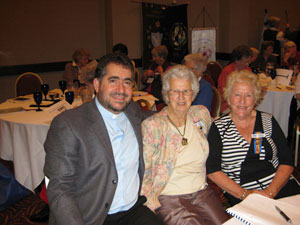 The Catholic Women's League apostolate was re-dedicated to Our Lady Help of Christians at its national conference at the Novotel Langley Perth on September 1.
That day marked day two of the conference, starting with an opening liturgy followed by a business session, with motions and recommendations from different states. Perth's Archbishop Barry Hickey and the Bishop of Armidale sent their best wishes. Lucy Muru, 49, from Manus Island, Papua New Guinea, who came alone to WA for the conference, spoke about "the strength of Catholic women – pillars of the Church, of faith, of youth, of family life."
Two WA motions were passed:
The CWLA requests the National Executive to

a. Write to the Hon Jenny Macklin MP, Minister for Families, Housing, Community Services and Indigenous Affairs and to Bill Shorten, Parliamentary Secretary for Disabilities and Children, expressing our deep concern at the continuing shortage Australia-wide of accommodation for young people with disabilities that caters for their social and emotional as well as medical needs; and

b.   Continue to provide all possible support to other organisations involved in advocacy and lobbying in this area.

Write to the Federal Minister for Education and for member organisations to write to the Education Minister in their state or territory expressing strong support for Australian of the Year 2009 Professor Michael Dodson's vision for every Australian child starting school in 2010 and asking what action has been taken to implement it.
WA representatives also suggested that each member organisation investigate the application of laws covering abortion to patients under the age of 16.
Tasmania's motion that state and federal Attorneys-General adopt Baby Safe Haven legislation to ensure that the protection of a child's physical well-being is the paramount consideration of baby abandonment, was passed unanimously.
Queensland's motion that the Federal Government give Australian farmers preference in domestic markets and greater support to all agricultural industries, was passed; and the Archdiocese of Canberra and Goulburn's amended motion that the Prime Minister should be encouraged on the Federal Government initiative to reduce violence against women in Australia was passed, and SA's amended motion that the sale of local Australian businesses to major corporations be advantageous to the local community, was passed.
Round table discussion groups were held, with reports given to the conference.
Entertainer Deb Perry, 60, from Bridgetown, known as "Spoonsperry" played the spoons with her whole body in motion, accompanied by recorded music.  She started out playing the drums and has appeared on national TV, playing all types of spoons.
Deb has also played with WASO and is athletic and fit with all the exercise.
Vicar General for the Bunbury diocese, Fr Tony Chiera, spoke about "walking with God", saying, "You represent over 7000 Catholic women across Australia in a CWL that is now 95 years old."
He told the conference that he was raised on a dairy farm and his mother was an inspiration who raised five children and milked the cows twice a day.
She died aged 69 and had not been in the best of health, he said, and she gave the little she had to the poor and the missions overseas. Fr Chiera said: "She taught me never ever to end a day without sitting quietly with my God.
"We can't see what God is doing through us most of the time.
"My sisters, we will not always see the fruits of what we do, but it is a walk of trust.
"The Catholic women of Australia carry out what God wants."
Fr Chiera blessed the conference before leaving to drive for two hours back down south to Dardanup.
September 2 was day three of the national conference, and opened with member organisations bringing forward scrolls with the names of deceased members from each state.
A prayer for all members experiencing hardship and for all deceased members began the proceedings for the day.
Moving and inspirational speaker, Kylie Forth, 23, is ranked fourth in the world in her yachting class as a skipper and took part in a 10km walk on World Youth Day 2008, even though she is completely blind and has only one leg, walking with the aid of crutches.
Kylie was born in Kununoppin, WA, where she spent most of her childhood and is currently studying law at UWA, from which university she has a BA degree in music and anthropology.
She told the conference she had cancer in her eyes and had them removed at three-months-old, then developed cancer in her leg, which was amputated. "If I hadn't had cancer, I just wouldn't be me. I sailed on the Leeuwin sailing ship at 18 for one day and I was free," she said.
"I am from the country where there is no water at all. I thought I might learn to sail and went down to Sailability at one of the yacht clubs on the river.
"I didn't have my leg on (but) I had a whale of a time.  There were very few people with disabilities who were sailing.
"I have also been to New Zealand to sail (and) came first in the world in the match racing championships.
"I love sailing; it all stems from the Leeuwin."
Kylie said she walked across the Sydney Harbour Bridge at WYD08 where the last 4km were progressively the hardest.
Somebody accompanied her and walked with her all the way; Kylie didn't want to know how far it was to go even though there were signs along the way.
"I had an extreme determination – once I start, I am very stubborn – I was walking on my crutches – it was like Jesus carrying his cross," she said.
"He was doing it for us (and) people were looking forward to seeing him being crucified.
"Thinking on that level of suffering, my own pain in my hand and blisters – I feel honoured about what Christ was doing for us.  It made me realise how much Simon helped carry the cross.
"Someone took my backpack – we may not have gotten there at all.
"There is something really powerful about talking about my faith with someone else.
"It is only through your own experiences that you learn something else.
"Why should I have cancer?  Don't use it as a cross, think of it as an opportunity."
National Bioethics Convenor Margo Nancarrow, from NSW, gave her report and said: "It is the women of the Church who are going to take the Church forward, especially in terms of our life issues."
She defined "ethics" and spoke about abortion, IVF and euthanasia and quoted from the Catholic Catechism.
Margo, a retired nurse educator and former midwife, showed pictures of babies "in utero" and also spoke about foetal alcohol syndrome.
National Secretary Maria Parkinson led a questions and answers session.
National Social Issues Convenor Betty Roberts, from Tasmania, spoke about family breakdown as a national tragedy, which she called "pass the partner".
She also spoke about abortion and euthanasia and congratulated "West Aussies for keeping pokies (poker machines) out of the state."
She said: "Evil triumphs when good people do nothing."
Guest speaker Mary Nenke, of Kukerin, went to an Anglican school and became a Catholic when she married her farmer husband Michael and had six children.
She became a trained teacher of the Billings Method of Catholic family planning and brought her medical student daughter, Suzanne, along with a number of shoes on display.
Mary, 61, said her daughter had chosen to be a virgin until she marries, and asked us to share shoes with each other, talking about the shoes we were wearing.
Originally a sheep farmer, she is opposed to genetically-modified crops, but diversified into yabby farming which became a big business, exporting world-wide.
She taught home schooling for her children and has taken part in the 20/20 Summit and met Prime Minister Kevin Rudd.
Her photo is on the front of the rural phonebook and she has won many awards.
The conference concluded with Mass celebrated by the National Chaplain, Nollamara parish priest, Salvatorian Irishman Fr Laurence Murphy SDS, who said: "Jesus is a very practical person.
"He used the things around him to illustrate what he wanted to share," Fr Laurence said.
"We are all children of God – we all have walked that walk (but) we are not always as good as we would like to be and we all have failings. Jesus is the truth, the way and the life and he wanted to show us the way to the Heavenly Father and gave us tools to do that. These tools are Baptism, Reconciliation, Confirmation, Marriage or the Priesthood. All the things that are happening to us are part of God's plan for us.
"We live it in our relationships with each other. Every time we come to the breaking of bread we recognise the giftedness of Christ.
He re-dedicated the CWLA to Our Lady Help of Christians with a special prayer.The incoming National Executive for 2010-11 from Victoria, Wagga Wagga is:
Madge Fahy, National President; Pat Coloe, first National Vice-President; Gertie Mangan, second National Vice-President; Ann Robinson, National Secretary, Louisa Ashton, National Treasurer, and Mrs Fahy's daughter, Robyn Fahy, National Public Relations and Community Engagements.
The conference ended with a special dinner at the Langley Plaza in the evening.
The next national conference is in 2011, probably in Melbourne.
Published in The Record