Written by Fiona Basile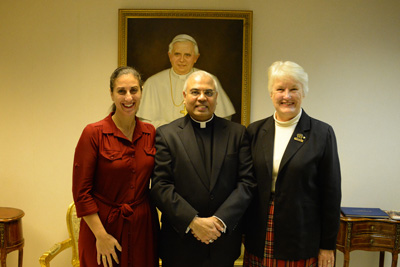 I had been in a sea of international diplomats at the United Nations (UN) for a week by the time I had an opportunity to meet with the Apostolic Nuncio Archbishop Francis Chullikatt, Permanent Observer of the Holy See to the UN. Jane Munro, Catholic Women's League of Australia (CWLA) National International Secretary, was with me.
By this stage, my head was swimming with information, having finally grasped the processes of the UN and the Commission on the Status of Women, and also having attended three or four side events each day hosted by state delegations and non-government organisations (NGOs), each addressing the issue of violence against women and girls.
Upon entering the room, the first words of Archbishop Chullikatt put us both at ease immediately: 'Now that's a typical Australian smile—I can identify an Australian smile anywhere!' For more than an hour (we had expected only 15 minutes), Archbishop Chullikatt discussed the work of the Holy See at the UN—he was appointed Permanent Observer of the Holy See to the UN in 2010—and its efforts to defend human life and dignity on an international stage.
'You know why we're there? Because every human being's concern is the Church's concern,' he said. 'It doesn't matter whether you're a Catholic, a Muslim, a Hindu or atheist; every human being matters to the Church. It is a universal institution which cares for everybody without discrimination.'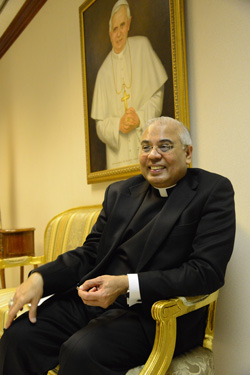 'The Catholic Church has been "in the business"—as they say at the UN—of education, health care, humanitarian and charitable work for more than 2000 years—just look at our record of good works, the personnel and institutions that have for centuries helped the poorest of the poor. Look at our hospitals and health care facilities, our orphanages, schools, colleges, universities—we've been around a long time, and in some of the most dangerous parts of the world! So we want to share our knowledge and experiences with others.'
But despite this 'mountain of good work', the Catholic Church continues to be barraged by criticism at the UN—from various 'loud and aggressive' state delegations, NGOs and media outlets that support 'the right to abortion', among other things—for its stance on protecting human life from conception to natural death.
'We are discussing the elimination of all forms of violence against women and girls at this commission and yet there are state delegations and NGOs trying to make abortion a woman's right. Abortion is an act of violence in itself. How can we even call killing a baby, a woman's right? If you don't respect life from the very beginning, then what is the point of even having these discussions on ending all forms of violence?'
'They attack the Catholic Church and call us fundamentalists, radicals, and all kinds of names, but it's common sense. And it's not about the future of the Catholic Church or any other religion; it's a life issue, which relates to all human beings, because it's about the future of humanity. If there is no family, how can there be a society, if there is no society, how can there be a nation? It all starts with the beginning of a small and vulnerable life in the womb of a woman. If we're serious about eliminating violence, then respect for human life, from conception to natural death, is the starting point for confronting a culture of violence.'
Archbishop Chullikatt spoke about the Holy See's ongoing commitment to being 'a voice for the voiceless' at the UN, particularly refugee and migrant women, illiterate women in rural and regional areas who don't enjoy the same benefits as women in urban areas, both in developed and under-developed nations, and women and girls who are being trafficked. 'Human trafficking is the modern-day form of slavery,' he said. 'Women and girls are being trafficked for sex, they're being raped and abused from all over the world; some are killed after they're no longer needed, and yet we have some countries justifying these actions by saying they're "commercial sex workers". This is not the kind of life these women wanted or want now … So it is our responsibility to give these women a voice.'
'If you actually speak with women from developing nations and ask them what they want, they want basic education, health care and a dignified place to live. If we give them the necessary resources, they will be able to make decisions for themselves.'
'The UN doesn't need to tell women how many children they should or shouldn't have, or what jobs they should be doing. Adequately resourced and educated women can make decisions for themselves, and live their own lives with dignity.'
Archbishop Chullikatt encouraged us to draw strength and inspiration from the countless women—and men—from within the Catholic Church who have given their whole lives for the sake of others and who have left a rich legacy for us long before the UN came into existence.
He said: 'Choose one thing and do it well; become an expert in it. Look at all the great leaders in the past who've chosen one cause and have given their life for it—Mother Theresa, Gandhi, Martin Luther King JR, Nelson Mandela.' We of course added Dr Sr Mary Glowrey JMJ to the list!
'And don't ever be discouraged by criticism. The Church has been persecuted and criticised since the very beginning and will continue to be so, but this is good a sign because it means we're doing something. And especially when you are doing something good, the powers of evil will be out there to attack you. Continue to do the good work and the Lord will bless you and help you. Just do the best you can, and for every good thing that you do, you're lighting the world, and it will last for an eternity.'
Archbishop Chullikatt also encouraged Catholic women's organisations such as the CWLA and the World Union of Catholic Women's Organisations (WUCWO), of which CWLA is a member, to become a 'force to be reckoned with'—WUCWO represents 100 Catholic women's organisations worldwide, is active in 66 countries and represents more than five million Catholic women from every walk of life.
'I'd encourage WUCWO members to speak loudly about these important issues and to showcase all the good that is being done by the Catholic Church. Help other women to come and join you, and network with other similar organisations; in unity there is strength. Let people know that the Catholic Church is serious when talking about women's issues, and in being a voice for the voiceless.'
 Fiona Basile was CWLA's Youth Observer at the recent 57th Session of the Commission on the Status of Women in New York.  A shorter version of the above article first appeared in the Kairos Catholic Journal.