Written by Anna Krohn, National Bioethics Convenor
The words and actions of Pope Francis and Pope Emeritus Benedict XVI surely affirm, and inspire us all in the pursuit of the League's mission of educating, promoting and defending the dignity of all our fellow human beings—whether elderly, pre-born, disabled, or hale and hearty.
The spontaneous gesture by Pope Francis to leave his papal entourage so that he could kiss a disabled man was a bioethics homily beyond words. The responding surprised delight on the man's face, and those around him in St Peter's Square, was a powerful visual counter-sign to a world where pregnancies are screened and the challenging end-of-lives patients are hastened to their death.
With the new Pope, we see both fresh new notes and a consolidation and unity in the role of the modern Popes in defining Catholic bioethics teachings.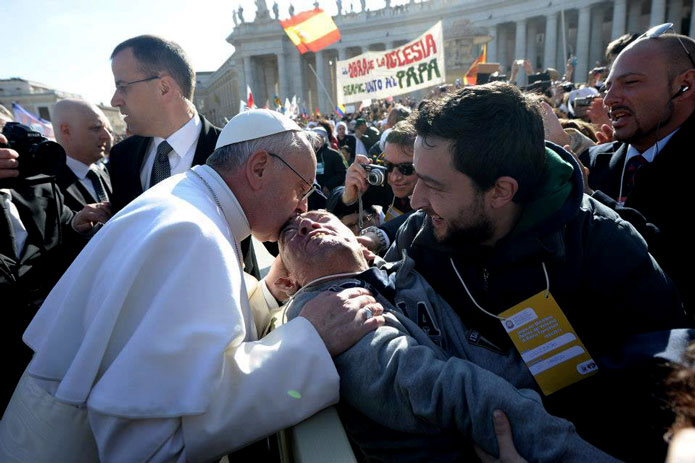 In a recent short YouTube clip, Australia's bioethics scholar and Bishop Anthony Fisher of Parramatta speaks of the leadership the recent Popes have given us. He points out that during his long life, Blessed John Paul II tackled particular hot-button life issues.
Pope John Paul II set out the explicit theological and philosophical principles for a Catholic and human response to reproductive technology, abortion, euthanasia, the death penalty, genetics, organ donation, capital punishment, people trafficking and the ethics of warfare in his magisterial "culture of life" and "theology of the body" projects. During this papacy, as Prefect of the Congregation for the Doctrine of the Faith, Joseph Ratzinger was immersed in the fine details of these projects.
Bishop Fisher goes on to say that Pope Benedict, in his shorter papacy, extended his mighty predecessor's work by taking us more deeply into the foundations of the "Gospel of Life", and into a greater understanding of the philosophies and attitudes which would undermine the reception and growth of that Gospel.
Pope Benedict writes in his charter for Christian practical charity, the Encyclical Letter Caritas in Veritate:
"Scientific discoveries in this field (of bioethics) and the possibilities of technological intervention seem so advanced as to force a choice between two types of reasoning: reason open to transcendence or reason closed within immanence" (n. 74).
It is not science, still less reason itself, that gives rise to a total secularisation of attitude and action but rather science and particularly biomedicine done within a totalising "technologizing" ideology: "The technological way of looking at the world is free of values. It searches for what it can do, rather than what it ought to do."
Secularisation, says Pope Benedict far from liberating us, not only causes us to ignore God, it leads us to forget reason and ultimately to destroy ourselves.
Technological progress is only truly progress for us if it is matched step by step with ethical formation and spiritual maturity. "Otherwise, man's situation, in view of the imbalance between his material capacity and the lack of judgement in his heart, become a threat for him and for creation" (Spe Salve #23)
Pope Benedict XVI urged not only doctors and politicians to protect human dignity, but urged everyone to resist the temptation to cut the corners of respect for human dignity, reverence and integrity even when faced with economic pressures and challenges to security.
For example, in a talk given to airport security workers, he referred to invasive detection methods: "…in every action, it is above all essential to protect and value the human person in his or her integrity… one must never forget that respecting the primacy of the human person and attention to his or her needs does not make the service less efficient nor penalise economic management."
Pope Benedict XVI continued a running dialogue throughout his pontificate with this holistic idea of human dignity. He declares: "This is a fundamental principle which faith in the Crucified and Risen Jesus Christ has always defended, especially when, in respect of the simplest and most defenceless people, it is disregarded."
He is aware when using this notion, that there are competing and contradictory versions of human dignity. Hence the rise of the "dying with dignity" movement—with its emphasis not on the inherent value of human life but upon a privatised notion which treats life as only one more consumable.
Benedict insists that the notion of human dignity only works as it should when it is opened upwards to transcendent value, and when it is extended outwards to include the lives of all people. "Dignity does not change with the passing of time, the teaching that the Church unceasingly proclaims is that human life is beautiful and should be lived to the full, even when it is weak and surrounded by the mystery of suffering." (Message on the World Day of the Sick, 2009)
The right to life and the right to discover the truth (particularly the truth about God) are bound together in Benedict's understanding of human dignity.
In a series of World Day of Peace addresses, Pope Benedict acknowledged that although not all people "have the faith" it is possible for non-believers, by use of their God-imprinted minds and hearts, to share some of the hopes, insights and concerns of those who do. So for him, working for humanity means working with truth "sensitive" non-believers and others:
"The transcendent dignity of the person is an essential value of Judeo-Christian wisdom, yet thanks to the use of reason, it can be recognized by all. This dignity, understood as a capacity to transcend one's own materiality and to seek truth, must be acknowledged as a universal good, indispensable for the building of a society directed to human fulfilment." (World Day of Peace 2011 #2)
However Benedict's bioethical vision is not utopian. Christians know that the "peace that passeth all understanding" lies beyond even their best efforts, most promising collaborations and cleverest therapies. Sin, suffering and failure will continue to be "a terrible presence" in our lives and our histories and are only answered by holiness and Spirit-infused virtue (faith, hope and love). With these, Christians bring to bioethical realities the witness of the power of God in Christ who is "…hope for the world's healing (who) has emerged in history. It is however hope—not yet fulfilment; hope that gives us the courage to place ourselves on the side of the good…". (Spe Salve #36)